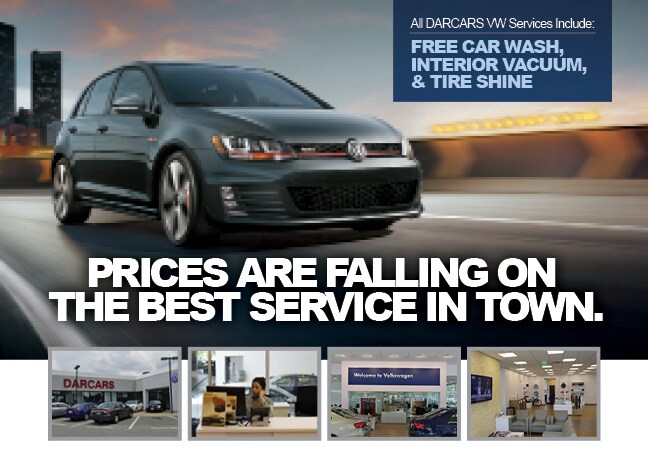 Oil Changes, Tire Rotations and More Are All in a Day's Work for the DARCARS Volkswagen Auto Service & Repair Department
At the end of the day, maintaining your car is the last thing you should have to worry about. Having a trusting, reliable, and reputable mechanic will eliminate this item on your list. DARCARS Volkswagen Auto Service & Repair Center offers all of that, and more, for which you can now schedule an appointment online to help save you the hassle.

DARCARS VW Service Hours
Monday

7:00AM - 7:00PM

Tuesday

7:00AM - 7:00PM

Wednesday

7:00AM - 7:00PM

Thursday

7:00AM - 7:00PM

Friday

7:00AM - 7:00PM

Saturday

7:00AM - 4:00PM

Sunday

Closed
Reasons to Service Your Volkswagen in Silver Spring, MD
First, our service center is staffed with highly-trained auto technicians who literally know Volkswagen models inside and out. These professionals are skilled in both diagnosing and repairing your vehicle without the guess-and-repair approach that some other garages use.
Whether you're in need of an oil change, tire rotation, exterior bulb replacement, windshield wiper replacement or other simple maintenance need, we can help. We use only genuine Volkswagen parts so you'll also get peace of mind with every visit.
Amenities
A comfortable lounge area
Free refreshments
Free wifi
Laptop friendly work area
Accessories station
Local and hourly shuttle service to Silver Spring Metro Station
Learn About a Few of the Services Offered
No matter what type of service your car needs, we can help. Our technicians can take care of all kinds of maintenance and repairs, and you can trust us to get the job done right. We use genuine Volkswagen parts, so your car can get what it needs and you can get peace of mind with every visit. Be sure to make an appointment at our service center for the following services:
Oil change: Oil keeps your engine protected and running smoothly. It's important to have your oil changed regularly to make sure your engine can keep running at its best.
Tire service: Tire rotations can help your tires last longer, and changing your tires to suit the season can help you enjoy a safe drive and great performance.
Brake repair: It's important to have your brakes inspected, serviced and repaired to make sure you can keep enjoying a safe drive.
Battery replacement: The battery helps your car start, so it's important to make sure it's working properly. Replacing it every few years helps ensure that your car has optimal battery power.
Wheel alignment: Your wheels can get bumped out of alignment by potholes and everyday driving. A wheel alignment will get them back on track so you can continue to enjoy precise handling.
Transmission repair: If your car is having trouble accelerating, we can inspect your transmission and repair it so you can get back to enjoying great performance.
Belt and hose replacement: Belts and hoses can wear out over time, so it's important to have them replaced to keep your car functioning properly.
We will gladly take care of all these services and more to help you keep your car in great shape.
We hope you'll visit our service center here in Silver Spring,MD, soon. It's our pleasure to take great care of serving your Volkswagen at our dealership.